Here is a quick guide on how to choose what to wear to a job interview:
How to Choose What to Wear to an Interview
When it is a matter of trying to land a job, you are not new to preparation, preparation to showcase your skills, what you want to say, and how you want to say it. While you are busy trying to make a good first impression through the entire interview, you forget that you have already made an impression the moment you walked in.
Check out this YouTube video on Bill Gates's Top 10 Rules For Success:
Let us quickly guide you through how you can go about choosing an interview outfit:
Represent Yourself Accurately Through Your Interview Attire
Of course, you need to mirror the company you want to work for. However, that doesn't imply that you have to angle yourself to fit their mold. Represent yourself accurately to your prospective employer through your interview clothes. If you have no intention of wearing that suit every day to work, pick something a little less intimidating. You will be able to be your best self when you are comfortable. And who says you can't be comfortable and professional at the same time?
Observe the Work Culture to Get a Sense of the Interview Dress Code
Do your homework before you appear for the job interview. If you are not sure about the interview dress code, visiting a company's online profile can give you an insight into the work culture. A good rule of thumb is to remember that regardless of what everyone else is wearing, you can afford to dress up a little. If the vibe looks casual, you can opt for a more well-groomed business casual look for your interview. If everyone is sporting a business casual attire, then it is time to take out your formals. You can never go wrong with a more formal look, but do not forget to go with something that is comfortable for you.
Pay Attention to Grooming
Make sure that you are well-groomed before you head out for the interview. It is advisable to always show up neat and tidy in well-ironed clothes. Pay attention to your hair and nails, and don't forget to clean your shoes.
Keep Your Interview Outfit Simple
Embrace simplicity! You don't have to go over-the-top to stand out in a job interview. Let your personality and skills do the talking for you. Avoid outrageous colors and patterns. Not only will it take the attention away from you, which you absolutely do not want during a job interview, but may also appear unseemly to the interviewer. Instead, you can consider wearing a piece of accessory to add a hint of sophistication, like a timepiece, or an office-wardrobe staple like a classic handbag or a smart office bag that can hold your important documents.
Have a Dress Rehearsal
While it may seem like you can pull out something at the last minute, things may not work as you expect on the day of the interview. You will have enough stress on your mind as it is. You do not want to panic when you find out that the interview outfit you had in mind has a stain on it or does not look right. Preparing your interview attire early and trying it on will keep your mind at ease and also give you the time to troubleshoot any issues before the day of the interview.
Let's Take a Look at What to Wear to an Interview
Job Interview Outfit for Women
1. Main Outfit (Business Professional): It can get very confusing for women to choose what to wear to an interview. This is because there is an extensive range or collection of work attires to choose from for aspiring professional working ladies. Dark knee-length skirt or trousers paired with a solid-colored conservative blazer is a classic. You can never go wrong with it. Choose a light-colored coordinated blouse or shirt that will go well with the rest of the outfit.
Blouse or shirt colors: Pastel, neutrals, grey, white, and light blue
You can wear a camisole underneath light shirts or blouses to conceal your upper body inners. You can also opt for a tailored knee-length dress if you prefer. If you are appearing for PSUs or government-body interviews, a simple salwar kameez is the most comfortable choice. You can also go the extra mile and drape an elegant saree if you are in the mood.
2. Main Outfit (Business Casual): If you want a business casual look for your interview, you can go with neatly pressed solid-colored khaki, twill, corduroy, or cotton pants or skirts. You can pair these with cardigans, knit shirts, polo shirts, sweaters, etc.
3. Footwear: While high heels look sophisticated and elegant, you don't want to trip and injure yourself on the day of the interview. Instead, you can opt for low heels or bellies. You can also sport a formal pair of moccasins or polished leather shoes. Avoid wearing footwear that announces your arrival everywhere you go. Leave those noisy shoes at home!
4. Accessories: Do not go overboard while accessorizing. Wear a pair of simple studs for earrings. Pick a watch that is simple and elegant. You can also wear a single-strand necklace if you want. Carry a stylish handbag to fit all your belongings and documents, and you are good to go.
5. Personal Hygiene and Makeup: Maintain a clean appearance. Wash your hair and wear it in a ponytail or a bun. Do not wear flashy hair accessories, and avoid leaving your hair open as it might appear messy. Make sure to trim and manicure your nails. Wear little or no perfume and maintain a simple and sober makeup look.
Lipstick and nail color: Light shades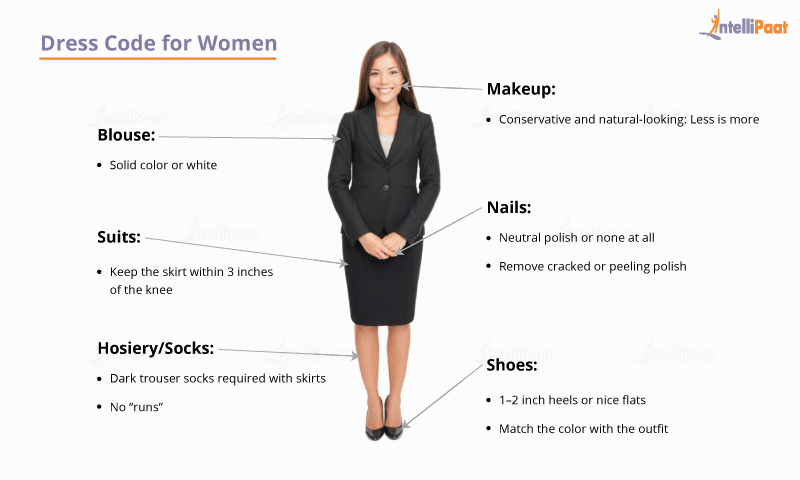 Job Interview Outfit for Men
1. Main Outfit (Business Professional): The interview dress code for men is very straightforward. Wear a dark solid-colored suit over a long-sleeved coordinated linen/cotton shirt. Pick a pair of well-fitted dark trousers or chinos. Avoid wearing printed shirts or pants to an interview. Silk shirts are a big no-no.
Suit colors: Navy, black, or dark gray
Shirt colors: White or color-coordinated with your suit
2. Main Outfit (Business Casual): Cotton pants, khaki, or gabardines paired with cotton button-down shirts with long sleeves, polo shirts, sweaters, or collared knit-shirts are a good way to carry the business casual look without looking too shabby. Ties are optional.
3. Footwear: You can choose to wear conservative shoes with or without laces. Make sure to give it a shine before appearing for the interview. Don't forget to wear clean dark socks with your shoes. Avoid wearing your cross-training sneakers for your job interview.
Shoe colors: Black or brown
4. Accessories: Pick a leather belt and a dark-colored tie, and you should be good to go. If you want to wear a timepiece on your wrist, wear one with a leather or metallic strap. Do not wear fancy sports watches. You can complete your look with a stylish office bag to carry all your belongings and documents.
5. Personal Hygiene and Makeup: Maintain a clean appearance. Wash your hair, and comb it well. Short hair is advisable. Make sure to trim and manicure your nails. Maintain well-groomed facial hair. Wear little or no cologne or aftershave.
Going to a job Interview? Check out top technical interviews asked by the experts which can help you land your dream job.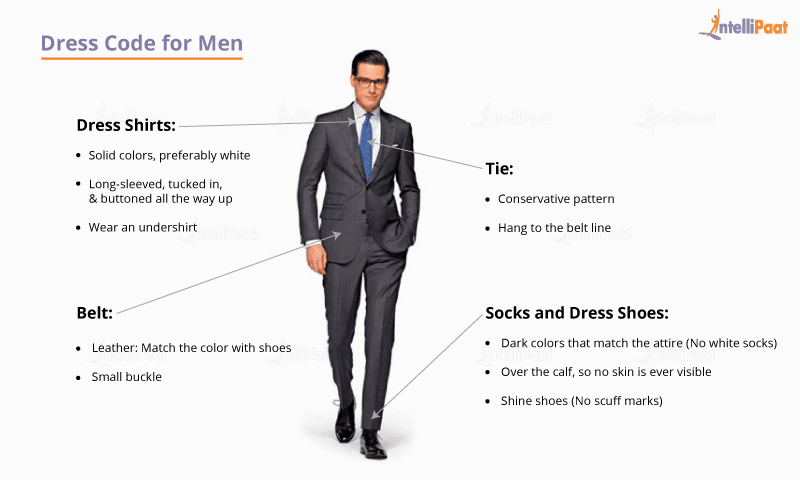 If you are inclined toward gender-neutral outfits for an interview, pick something that highlights your personality and professional side.
Post all your queries in our Community and we will try our best to answer them.
Conclusion
Hope this guide has given you an idea of how to dress for an interview. Today, corporates are more result-oriented than process-oriented. While it may seem like your interview outfit might not matter, the effort you put into your appearance and yourself by dressing for an interview reflects your work and attitude. What you bring to the table is all of you, so remember to do your best and look your best.
When it comes to looking your best, the ball is in your court. In the interest of you doing your best, we can definitely help you. Intellipaat's professional training courses can help you strengthen and polish up your skills before you sit for that dream job interview. If you are not convinced, here are 10 Reasons Why You Should Learn from Intellipaat.
The post A Beginner's Guide on How to Choose the Best Interview Outfit appeared first on Intellipaat Blog.