In this blog, we are going to discuss AWS vs Azure from a point of view of certification holders. We will cover all the necessary aspects that will give you clarity regarding AWS vs Azure certifications. Let's first take a look at the topics that are covered in this blog:
Do you want to know more about Cloud Computing? Check out this complete Cloud Computing course for beginners:
AWS vs Azure: An Overview
AWS CEO, Andy Jassy said, 'Cloud is the new normal.' Well, clearly, it is a necessity for IT organizations of the day. According to a report published on Forbes, around 80 percent of the enterprises are running on AWS or are experimenting with them. Azure is at the second position with 67 percent of usage, and Google Cloud comes third with 40 percent. According to IDC, certified IT professionals in India are promoted 50 percent faster than non-certified ones.
With this cloud surge, job opportunities have also been increasing rapidly for professionals who have been working on cloud services or even who want to explore cloud-related projects in organizations. You can get these opportunities by getting certified by the respective providers.
Importance of Certifications
Over the years, the boom of cloud has turned into a blessing for developers as they constantly search for better job opportunities and more projects. Meanwhile, with more professionals entering the field, companies started seeking certified ones. As per the Global Knowledge 2019 report, 93 percent of employers accept that certified professionals add more value to their organizations. Certifications validate your experience and knowledge in your area of expertise.
Now that you know the importance of certifications in getting better opportunities, you may be thinking about which one to go for among the top two industry leaders, i.e., AWS and Azure.
To get an answer to this question, in this AWS vs Azure blog, we will first discuss AWS certifications, their benefits, and the most sought-after AWS certifications available, and then will move on with the details of Azure certifications.
AWS Certifications
In 2013, AWS launched its global certification program. The first certification offered was AWS Certified Solutions Architect – Associate Level. AWS has come a long way ever since, and now in total, it offers 12 certifications in 4 different categories: Foundational, Associate, Professional, and Specialty.

Now, let's discuss some of the benefits you can get by attaining an AWS certification:
Benefits of AWS Certifications
Salary hike: The average annual salary of an AWS Solutions Architect Associate in India, according to PayScale, is around ₹12 lacs per annum. And with experience, it can go above ₹25 LPA. In the United States, these professionals get increments of more than US$12K per annum if they are certified from Citrix and Linux, as per a report published on Forbes. If they have some years of experience in Cloud Computing, then these numbers can go even higher.
Validation: AWS certifications are one of the most trusted certificates among employers around the world. Thus, the certified AWS professionals can get better opportunities in these organizations as AWS certifications validate their experience and knowledge in the subject matter.
Badge: Once you are AWS certified, you are given a badge, which you can utilize to attend the AWS summit events, but not just that, it can also influence employers on platforms like LinkedIn.

Top AWS Certifications
As we have discussed, there are a total of 12 AWS certifications you can go for. All of these certifications have equal merit, depending on the subject matter. Though it is often recommended to attain multiple certifications since already numerous organizations have set up AWS, and they need professionals who can oversee multiple AWS operations.
However, when we talk about the salary, the following two AWS certifications are the highest-paying certifications.

AWS Certified Solutions Architect – Associate and AWS Certified Cloud Practitioner are in the list of top 15 highest-paying certifications prepared by Forbes.
Azure Certifications
Although Azure has less market share as compared to AWS, its growth has been phenomenal in the past few years. According to a Forbes report, Azure has been catching up fast with AWS when it comes to the number of enterprises utilizing it. The majority of the Fortune 500 companies are currently utilizing Azure services. Azure's exceptional hybrid cloud features and its easy-to-use and install on-premises features have been attracting more and more IT organizations across the world toward it.
Thus, Microsoft has been constantly adding more Azure role-based certifications. Currently, it offers 14 Azure certifications. Focusing on Azure's role-based certifications will validate your subject matter expertise and can offer you great career opportunities.
Various Azure certifications are mentioned in the image below: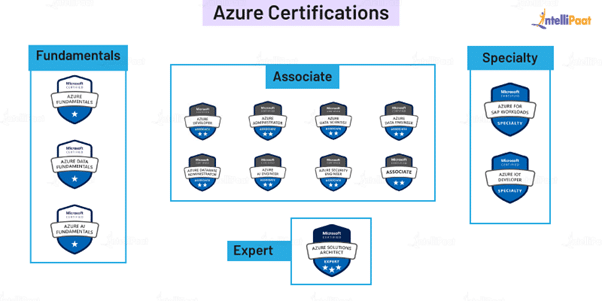 Along with the growth of Azure, Azure certifications are also becoming beneficial with time. Now, we will move further and discuss the benefits of Azure certifications:
Benefits of Azure Certifications
Salary hike: In India, an experienced Azure Certified Solutions Architect earns around ₹20 LPA as per PayScale. In the United States, on the other hand, a Microsoft Certified Azure Fundamentals IT professional earns US$126K per annum on average as per a survey conducted by Global Knowledge.
Validation: Proven expertise will give you access to more and more opportunities in organizations that are running on Azure and its features. Even companies that are going to implement Azure features will need experts who can help them. In this scenario, certified professionals will be prioritized when it comes to hiring as they are expected to have both expertise and deep knowledge.
.NET platform: The .NET platform is a cross-platform, open-source framework from Microsoft that includes tools, libraries, and programming languages for development. So, when you get trained for cracking an Azure certification, you will also be able to learn how to integrate .NET with a company's infrastructure.
Top Azure Certifications
Just like AWS, Azure also has two of its certifications listed among the top 15 highest-paying certificates. These are:

As you can see, one is of the fundamental level and the other is of the associate level, i.e., there are different stages of certification as per requirements. However, it does not conclude that one of these two certificates will surely open gates for more opportunities. Most employers trust professionals with a wide range of knowledge and expertise.
Do you want to become a Microsoft Certified Azure professional? Enroll in Intellipaat's Azure Fundamentals certification now!
AWS vs Azure Certifications: A Comparison
In this section, we will be distinguishing between AWS certifications and Azure certifications based on several factors.
Salary: As we have already discussed the salaries of AWS vs Azure certified professionals, we can see that there is a higher chance for AWS certified professionals to get paid more as compared to Azure certified professionals.
Scope: While AWS is dominating the cloud market, Azure's growth has been constantly increasing. So, the opportunities that AWS vs Azure certifications can offer you will not differ much. Organizational requirements will also play a substantial role in this criteria.

AWS vs Azure Certifications: Which one should I go for?
Now, we come to the most crucial question, which you might often ask yourself: Which certification should I go for?
First, let me tell you this, there is no exact answer to this question. The answer varies from person to person according to the factors such as your dream job, organizational requirements, the income you want to earn, and more.
If your dream job requires the AWS skill set, then you should focus on AWS certifications. If the organization you are working in is utilizing Azure and you want to stay there to add more value to your organization, then you should opt for Azure's certifications.
If you want to earn higher wages in the IT industry, then it is preferred that you go for cross-certifications. But, what are they? In the next section, we will discuss cross-certifications and how they open up potential paths for better career growth.
Read about the difference between AWS, Azure and Google Cloud in our blog now!

Cross-certifications
Most large-scale organizations of the day utilize cloud services from multiple vendors. Let's take the example of the popular telecom giant, Nokia. Nokia has recently announced a collaboration with all the three major cloud service providers, i.e, AWS, Azure, and Google Cloud, as it is going to develop 5G solutions and other new services for its customer base. However, it is not only Nokia that is thinking of this way. There are also other organizations that rely on multiple cloud service vendors for different purposes.
Therefore, professionals often go for cross-certification in combinations such as AWS and Azure or AWS and Google Cloud, or sometimes even combining all three cloud providers. Employers, in turn, also seek professionals who are cross-certified to ease their development processes. According to Global Knowledge, 64 percent of cloud professionals are cross-certified across various platforms. Even though AWS is leading the cloud market, there are still many enterprises that are yet to shift to the cloud, so other cloud providers can also rise in the market at any time. In this light, cross-certification gets the professionals access to more opportunities. It sort of gives them the freedom to work on new projects regardless of the cloud services that they use.
Check out this AWS vs Azure vs Google Cloud video:
Conclusion
Cloud is going to be more prevalent in the future than it has ever been. Cloud professionals will have ample opportunities in the IT world very soon. In this light, certifications will validate their credentials and knowledge, and thus they will be approved as subject matter experts. AWS vs Azure certifications may go back and forth in upcoming years. So, you may have to choose your certification that fulfills your and your organization's requirements. If you are just starting out with Cloud Computing, then Intellipaat's Cloud Computing Courses are just for you.
The post AWS vs Azure: Which certification is better for your career? appeared first on Intellipaat Blog.