Following are the topics that will be covered in this blog on Blockchain Developer salary for freshers and experienced. First, you will be learning who Blockchain Developers are and their skills, and then in the latter part of the blog, you will get to know how much do they earn across different regions of the world.
Initially, Blockchain came to be as a means of supporting Bitcoin, but eventually, it has started displaying potential beyond that and showing more versatility in its application and security. This has encouraged numerous sectors to make use of it today.
Check out this course on YouTube to become a Blockchain Developer:
Who is a Blockchain Developer?
To put it simply, the developers who are in any way involved in the development and optimizations of Blockchains and their protocols can be considered as Blockchain Developers. They are responsible for the construction of a Blockchain system's architecture and the development of smart contracts. They also work with web apps that use Blockchain technology.
There are two main categories of Blockchain Developers:
Core Blockchain Developers
Blockchain Software Developers
Core Blockchain Developers
A Core Blockchain Developer is in charge of all the vital decision-making related to Blockchain. The professional primarily focuses on developing the architecture of a Blockchain system and making all the decisions for the protocol and consensus protocol designs.
Core Blockchain Developers are responsible for supervising the Blockchain network, designing its architecture, and the security of the network.
Blockchain Software Developers
Blockchain Software Developers make use of protocols and the architecture configured by the Core Blockchain Developers and develop decentralized applications that can run on Blockchain technology.
Blockchain Developers research, analyze, design, and execute the complete life cycle of Blockchain applications with the help of various programming languages.
Blockchain Developer Skills
Blockchain Developers are required to possess the following skill set:
Technical Fundamentals
A bachelor's degree in computer science or information security is required to be able to handle the duties of a Blockchain Developer. Java, C++, and Python are some of the programming languages that are relevant to Blockchain development.
Data Structures
Blockchain Developers possess a solid understanding of data structures, such as binary search trees, graphs, maps, hash, and linked lists, to handle the complexity of Blockchains.
Cryptography
Blockchain is founded on the pillars of cryptography; it makes cryptocurrencies work. Cryptography can create hash functions and digital signatures. Blockchain Developers are skilled in message integrity, ECDSA, authenticated encryption, RSA, and block ciphers.

Networking and Distributed Systems
Blockchain Developers have a strong foundation in distributed ledgers and how they work. They also know about peer-to-peer networks, which comes from a good understanding of computer networks. It is not necessary to know everything, but a good understanding of distributed systems is sufficient to help one become a Blockchain Developer.
Cryptonomics
It is wise to be familiar with the economic structures that surround cryptocurrencies. It is essential to have an understanding of the factors that affect currency valuation as well as the monetary policies that influence cryptocurrencies. The Game theory is also ideal for modeling scenarios, in which there are conflicts of interest among parties.
Smart Contracts
A smart contract is essentially a program that starts running on the Blockchain upon the completion of a transaction. It automatically executes, controls, or documents events and actions according to the terms of the agreement that is created between the buyer and the seller, which is written into the lines of code. The code and the agreements exist across a distributed, decentralized Blockchain network.

Smart contracts are enforced automatically and impartially and do not need a middleman to oversee a transaction. Complex smart contracts are harder to secure, however. Currently, there are not many developers who can properly audit and optimize smart contracts.
Decentralized Applications (DApps)
Decentralized applications, otherwise known as DApps, are software that are built on Blockchains. Blockchain Developers use a variety of platforms to develop a DApp. Some popular ones are:
Get your Blockchain Certification from Intellipaat. Enroll now!
Roles and Responsibilities of a Blockchain Developer
Blockchain Developers set up security measures to safeguard organizations from cyberattacks. They are also responsible for building infrastructure, collaboration with other teams during the design process, coming up with best practices, educating sales personnel about the technology, etc.
Responsibilities of a Core Blockchain Developer
We already know that Core Blockchain Developers work on the architecture of a Blockchain and the complete system security. Some of the other responsibilities include:
Blockchain protocol designing
Setting up consensus protocols and security patterns for a network
Network architecture designing
Complete network supervision
Preparing for job interviews? Check out our blog on the most frequently asked Blockchain Interview Questions.
Responsibilities of a Blockchain Software Developer
Some of the responsibilities of Blockchain Software Developers are:
Smart contract development
Development of interactive front-end designs for DApps
Supervision of the complete stack running the DApps
Supervision of the backend Blockchain-related development
Have you visited our Blockchain Community yet? Find answers to all your Blockchain-related questions there!
Blockchain Developer Salary
Let's take a look at the salary of a Blockchain Developer across different regions in India as well as a few other countries.
Blockchain Developer Salary in India
The average annual salary of a Blockchain Developer in India is ₹609,598, according to Glassdoor. Below are the average Blockchain Developer salaries in different cities in India as per the statistics from Glassdoor:
Bangalore: ₹619,000 p.a.
Mumbai: ₹707,000 p.a.
Delhi: ₹599,000 p.a.
Hyderabad: ₹500,000 p.a.
Pune: ₹883,000 p.a.
Chennai: ₹729,228 p.a.

The bellow lists what other countries are paying their Blockchain Developers:
The Salary of a Blockchain Developer in the USA: US$99,197 p.a.
The Salary of a Blockchain Developer in Canada: CA$100,000 p.a.
The Salary of a Blockchain Developer in the UAE: AED210,000 p.a.
The Salary of a Blockchain Developer in the UK: £50,625 p.a.
The Salary of a Blockchain Developer in Australia: AU$103,000 p.a.
The Salary of a Blockchain Developer in the Philippines: ₱1,200,000 p.a.
The Salary of a Blockchain Developer in Singapore: S$92,903 (PayScale)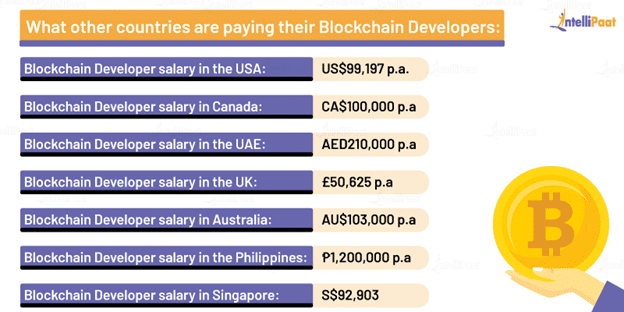 Senior Developers with Blockchain expertise have a significantly higher income. Furthermore, with the increase in demand for software security that consists of more layers to prevent fraudulent activities and cyberattacks, salaries go higher.
Conclusion
As you can see, the average annual salary of Blockchain Developers is pretty high, but it also depends on a lot of factors such as location, experience, as well as demand and requirements. Hope this blog gave you a picture of how much you would earn if you were to pursue a career in Blockchain technology.
Learn more about blockchain in our blog on Blockchain Tutorial!
The post Blockchain Developer Salary – How much does one earn? appeared first on Intellipaat Blog.