To become a Data Analyst and earn a high income, you must have the necessary skills, and you need to regularly upskill yourself to keep up with the market demands. There are several factors that determine the salary of a Data Analyst, but their skills are the most significant factor among them.
In this 'Data Analyst Salary in India' blog, we will discuss the following:
Let's start by learning who Data Analysts are and about their job role in an organization.
Who is a Data Analyst?
Data Analysts are experts dealing with data who can translate numbers, figures, statistics, and other similar data into English so that every member of the organization can easily comprehend it.
Daily, over 2.5 quintillion bytes of data is generated across the world, and it is the job of a Data Analyst to extract valuable information from that pile of data and present a comprehensive form of the same, like reports and visualizations, to the stakeholders. There is always room for improvement for Data Analysts as it is a fairly new field, and new advancements keep coming in day by day. It is the perfect career option for professionals who have a stronghold in statistics, math, and computer science.
Who are Data Analysts? Watch this YouTube video created especially for beginners:
What does a Data Analyst do?
A Data Analyst is responsible for collecting, storing, and interpreting data that can further be transformed into valuable information, which can help improve business tasks and make informed business decisions. As a Data Analyst, you also need to analyze and interpret business data. After being able to analyze the given data and interpret hidden insights from it, you need to communicate the same to the various stakeholders, clients, company partners, etc.
Now that you have understood who Data Analysts are and what their role is in an organization, let's move ahead. Before reading about the Data Analyst salary in India, you will read about the various skills necessary to pursue a career in this field.
Read our blog on Data Analyst Roles and Responsibilities.
Skills to Be a Data Analyst
To become a successful Data Analyst, you need to have all the necessary skills and knowledge. The skill set that you need to acquire to get into this profession is mentioned further in this blog.
Expert Knowledge of Data Analytics
To get into any domain, it is important that you have in-depth knowledge of it. The same goes for Data Analytics. You need to be thorough with business variables, the ability to make business decisions, etc. You must have a good knowledge of business and its processes as it is the most crucial skill to have to become a Data Analyst.
Skills in Math and Statistics
It is necessary to have a strong background in mathematics and statistics. This will help you make important business decisions logically and objectively. This skill will also help you come up with solutions for various business problems. You must be able to extract valuable data and find trends that will allow you to make predictions based on past business data. Moreover, you need to make use of numerous predictive and clustering algorithms, classification techniques, etc., which will help a great deal.
Technical Knowledge
You need to have the required technical skill set and excellent skills in languages, such as Python, R, SQL, etc. It is not enough to know mathematical concepts and techniques since you need to understand complex datasets and use the necessary techniques to get information out of them.
Other Skills
One of the main skills that you need to have is communication. You must be skilled enough to communicate your solutions to the respective members of the organization in a simple yet effective manner. Also, you need to be able to make the best use of various visualization tools, such as QlikView, Tableau, etc., to convey your findings.
Sign up for the best Data Analytics Certification training offered at Intellipaat!
You have read enough about the roles, responsibilities, and skills of a Data Analyst. Let's now answer the most important question that you want to know, 'What is the Data Analyst Salary in India?'
Salary of a Data Analyst in India
'Data Analyst' is one of the most sought-after career options and among the highest-earning professionals in the field of IT. A large volume of data is generated every day in companies, which is why there are several job opportunities available for these professionals.
The Data Analyst average salary in India is ₹432,223 per year as per PayScale. However, the salary of Data Analysts differs due to various reasons, such as the city, the company, the job position, the job role, work experience, and so on. We will discuss them in detail in this blog on 'Data Analyst Salary in India.'
Data Analyst Salary in India by Experience
The starting salary of a Data Analyst in India with less than a year of work experience is about ₹342,716 per annum. This is the average Data Analyst salary for freshers.
Data Analysts with 1–4 years of industry experience earn an average salary of ₹414,330 per year.
Whereas, experienced Data Analysts who have worked in the industry for 5–9 years can earn an average annual income of ₹676,056.
Expert Data Analysts with experience of 10–19 years can earn about ₹918,116 per year.
The Senior Data Analyst salary in India, for professionals with over 20 years of industry experience, is ₹1,750,000 per annum.
Data Analyst Salary in India by City
Now, we will read about the salaries earned by Data Analysts in different parts of the country.
Data Analysts in Bangalore, Karnataka, earn around 17.7 percent higher than the national average. Their average income here is ₹508,538 per annum.
In Mumbai, Maharashtra, these professionals earn about 6.6 percent lesser than the national average, with an amount of ₹403,574/year.
Data Analysts earn about 4 percent less in Hyderabad, Telangana. The average annual salary of Data Analysts in the city is ₹442,179.
The average salary earned by Data Analysts in Kolkata, West Bengal, is 6 percent less compared to the national average. Data Analysts earn an average of ₹408,345 per annum here.
In New Delhi too, the salary of Data Analysts is 6 percent lesser, and they earn about ₹404,194 per year.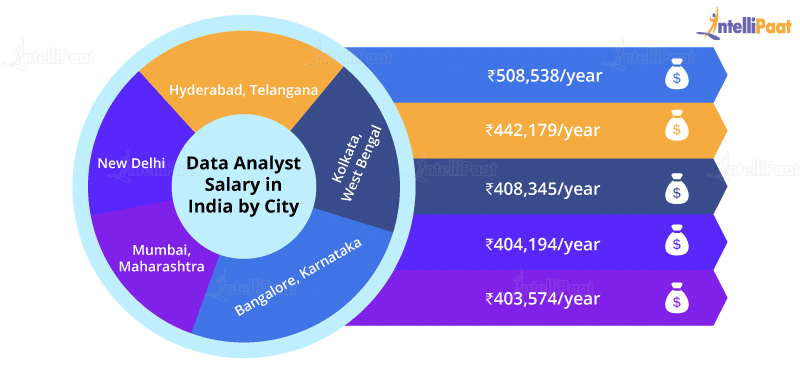 Data Analyst Salary in India by Company
Mentioned below are the average salaries earned by Data Analysts in various companies in India (in no particular order):
Tata Consultancy Services: ₹439,916/year
Accenture: ₹494,567/year
Ernst & Young (EY): ₹408,896/year
Amazon: ₹450,000/year
Genpact: ₹350,000/year
HSBC: ₹712,155/year
Capgemini: ₹316,075/year
Cognizant: ₹525,776/year
Deloitte: ₹540,002/year
IBM: ₹548,780/year
Data Analyst Salary in India by Job Profile
In India, the Data Analyst salary varies according to the job profiles as follows:
Software Engineer: ₹267k–1,000k/year
Software Developer: ₹215k–1,000k/year
Business Analyst: ₹274k–1,000k/year
Senior Software Engineer: ₹495k–2,000k/year
Senior Software Developer: ₹438k–2,000k/year
IT Consultant: ₹391k–2,000k/year
Data Scientist: ₹342k–2,000k/year
Refer to our Data Analyst Interview Questions blog to prepare for your next job interview.
Kick-start Your Career as a Data Analyst
In this 'Data Analyst Salary in India' blog, you have read in detail about who Data Analysts are, their responsibilities in an organization, the range of salaries these professionals earn depending on numerous factors, and so on. To pursue a career in this domain and become a successful Data Analyst with a high-paying salary, you must sign up for Intellipaat's online course for Data Analysts today. This course will help you start from scratch and become an expert in the domain within a few months.
Also, if you have any more doubts, you can post them on our Community!
The post Data Analyst Salary in India appeared first on Intellipaat Blog.