There is more to Salesforce than what meets the eye. Did you know that the Salesforce career is estimated to rise by 9 percent and generate over 56,000 jobs by 2028 in the United States alone? This makes Salesforce professionals among the highest in-demand professionals in the world.
For companies, their main concern is to increase their revenue and boost their sales. This can be done by using time efficiently and making the most out of it to build market strategies. To successfully run their business by generating potential leads and converting the probable ones into customers, organizations have been venturing for the perfect CRM (Customer Relationship Management) tool, which is Salesforce.
This extensive blog on 'How to become a Salesforce Consultant from scratch?' aims to cover the following topics:
Let's dive right in and understand the use and work of Salesforce.
What is Salesforce?
Whenever you are pursuing a career, be it in any domain, you need to first know what you are getting yourself into. Similarly, to understand the process of how to become a Salesforce Developer, you must have a basic understanding of Salesforce. IT-based companies like Facebook and Google, coupled with other small and medium-sized organizations, use various products and services of Salesforce to solve their business problems. Surely, there must be some reason why it is highly in demand.
Salesforce, other than being a CRM organization, is a tool that offers a plethora of solutions, along with a platform for developers to build custom software.
To get a better idea of the use of this tool, check out our YouTube video tutorial on Salesforce:
Further, let's discuss the use of Salesforce in the various departments of an organization.
Salesforce: Areas of Use
In any organization, Salesforce is used in the following areas of work:
Marketing
Management
Customer support
Application integration
This is one of the main reasons why companies hire Salesforce consultants and other Salesforce professionals who can implement and maintain this tool in various aspects of a business.
Now that you have got a gist of Salesforce and its areas of use in an organization, let's discuss what professionals like Salesforce Consultants and Salesforce Developers do.
Check out this Salesforce Tutorial blog to know more about Salesforce!
What does a Salesforce Consultant do?
As a Salesforce Consultant, you need to acquire numerous skills, gain in-depth knowledge of various concepts, and keep yourself up-to-date with the latest enhancements in Salesforce. Further, in an organization, there are numerous Salesforce roles and responsibilities that you need to fulfill while working as a Salesforce Consultant. Following are some of the responsibilities that Salesforce Consultants manage in companies:
Gather the requirements of clients
Manage relationships with the clients
Build and manage several business project plans
Create project timelines
Design, develop, train, and deploy the necessary Salesforce setup
These are a few of the many responsibilities you will have to carry out as a Salesforce Consultant. Now, you will come across the steps that you need to follow to become a Salesforce Consultant.
Steps to Become a Salesforce Consultant
To become a Salesforce Consultant, you need to follow the steps mentioned below:
Enroll in a Salesforce Consultant certification program
Work with the latest technologies
Build your networking skills
Gain industry experience in retail, financial services, etc.
Work with various Salesforce products and services
Work on several Salesforce projects and gain hands-on experience
To meet the requirements of becoming a Salesforce professional and attain all the necessary Salesforce Consultant skills, you must enroll in the best Salesforce Consultant training available.
Sign up for Intellipaat's Salesforce Training today and boost your career in this field!
After briefly learning about Salesforce Consultants, you will further learn about Salesforce Developers and what they do.
What does a Salesforce Developer do?
A Salesforce Developer is a professional who knows the working of Salesforce and has experience in working with the platform. Salesforce Developers are generally hired by clients who want customized Salesforce as per their requirements. On the other hand, these professionals may also work as in-house programmers who have the necessary skills and experience in working with Salesforce. These professionals make use of numerous tools and frameworks to build apps, including Apex, Visualforce, Lightning Component, etc.
To briefly understand what these professionals do, let's discuss some of their roles and responsibilities.
Roles and Responsibilities of a Salesforce Developer
Salesforce Developers have numerous responsibilities in an organization. Rather than reading about them all, let's discuss some of the most significant ones. Following are a few of the roles and responsibilities of these Salesforce professionals:
Analyzing user needs to design, test, and build software that meets the given specifications
Designing solutions and building effective project plans
Adding value to the significant three stages of building a project: Definition, development, and deployment
Designing all the parts of an application
These are just a few of the responsibilities that these professionals need to fulfill.
You have learned in detail about the two professions and have come across Salesforce Consultant vs Salesforce Developer, concerning their job roles in an organization. Now, let's discuss the numerous job opportunities available for those who possess Salesforce skills.

Salesforce Consultant Jobs
While reading about the various skills, you might have wondered: Is Salesforce worth it? Should I learn Salesforce? And so on. It is natural to have these questions running through your mind. Now, to answer these questions, yes, learning Salesforce and building a career in this field is worth it.
The United States alone has over 8,000 job openings for Salesforce Developers as per LinkedIn.
In India, there are 4,000+ jobs available for entry-level and experienced Salesforce professionals.
Now, let's focus on the job profiles that Salesforce-skilled professionals can apply for:
Salesforce Developer
Salesforce Architect
Salesforce Consultant
Salesforce Lightning Developer
Salesforce Commerce Cloud Developer
Salesforce Application Architect
Salesforce Administrator
Salesforce Consultant Job Description
Here, let's look at the job descriptions for Salesforce professionals posted by some of the major companies in the world. This will help you get a better understanding of the current business requirements from Salesforce professionals.
Senior Salesforce Developer at Zoom, San Jose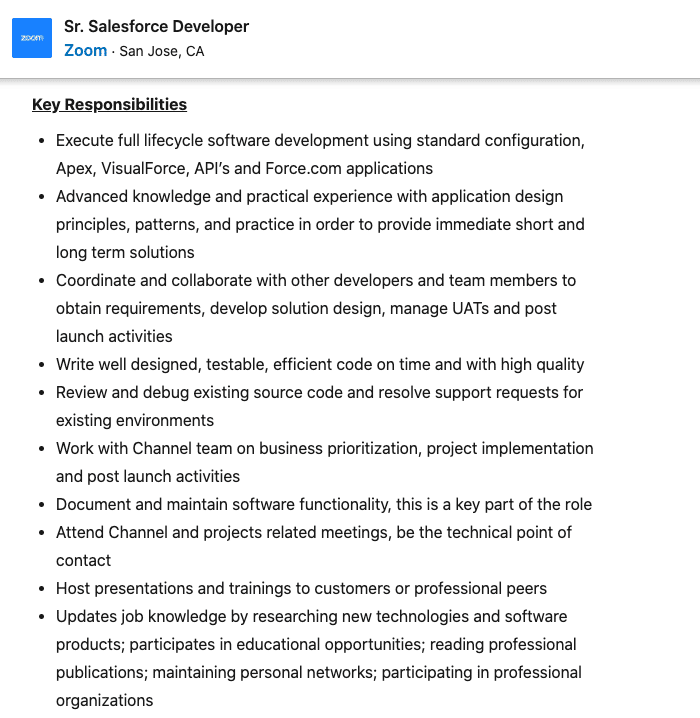 Source: LinkedIn
Salesforce Application Engineer at Google, Hyderabad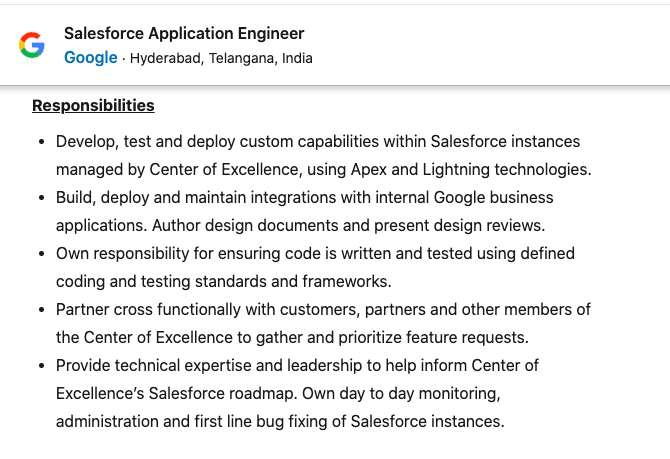 Source: LinkedIn
Finally, let's discuss the salaries earned by Salesforce professionals.
Salesforce Professional Salary
Salesforce professionals are among the high-in-demand professionals, which is one of the main reasons why they are also among the highest-earning professionals.
Learn about the salary of various Salesforce profiles before choosing a career path. Read our comprehensive blog on Salesforce Salary now!
Salesforce Developer Salary
As per the salaries posted on Glassdoor for developers:
On average, Salesforce Developers earn about US$78k per annum in the United States, and with experience, they can earn up to US$105k per annum.
In India, Salesforce Developers are paid around ₹502k per annum, and it may rise to ₹1,025k per annum with experience.
Salesforce Consultant Salary
As per the salaries posted on PayScale for consultants:
The average salary of entry-level Salesforce Consultants is over US$83k per annum, with a possible hike to US$124k, in the United States.
These professionals earn approximately ₹803k per annum in India, which may increase to ₹2,000k with experience.
This blog on 'How to become a Salesforce Consultant from scratch?' discusses the steps you need to follow to become a successful professional in this field. Here, you have learned about Salesforce, what various Salesforce professionals do distinctly, the skills required to get into these professions, various job opportunities available in this domain, and the salaries earned by Salesforce professionals. Give a head start to your career in Salesforce by signing up for one of the best Salesforce Courses from Intellipaat!
If you have any queries regarding Salesforce, you can get in touch with us at our Salesforce Community and get your queries resolved in no time!
The post How to become a Salesforce Consultant from scratch? appeared first on Intellipaat Blog.