Before starting with exploring this blog on benefits of AWS, let's take a look at the various topics covered in it:
Learn AWS end-to-end with our AWS YouTube tutorial:
What is AWS?
AWS is a Cloud Computing platform, which helps you build your applications over the cloud. It offers various services like a combination of infrastructure and software services, along with computing power, scalability, reliability, and secure database storage. You can use AWS for quality development as it offers around 200 products and services all over the world.
The top 5 services provided by Amazon Web Services are:
Amazon Elastic Cloud Compute (EC2)
Amazon Simple Storage Service (S3)
Amazon Virtual Private Cloud (VPC)
Amazon CloudFront
Amazon Relational Database Services (RDS)
Now, let's talk about the advantages and disadvantages of Amazon Web Services.
Top 7 AWS Benefits and Advantages
Companies and individuals prefer AWS as their cloud provider because of the numerous AWS benefits it provides. Here is the list of the top 7 AWS advantages you need to know if you are planning to shift to AWS cloud services.
User-friendly
This tops the list of the Amazon Web Services benefits. AWS is easy to use as the platform is specially designed for quick and secure access. Users can modify their data whenever they want, wherever they want. Most companies find starting with AWS as their cloud provider much easier than using other providers, namely, Azure or Google Cloud Platform. AWS provides you with all the information, documentation, and video instructions to help you learn how to use all of its services.
Flexible
Flexibility is also the reason why many companies prefer AWS. It always lets you use those operating systems, programming languages, and web application platforms that you are comfortable with. With a service like AWS EC2, you can build your virtual computing environment by setting up your preferable operating systems and applications. AWS benefits provide all the best services that your application requires to function seamlessly. It can also ease the migration process, and you can work on new solutions simultaneously.
Secure
Security is one of the best benefits of AWS cloud computing. As we know, security is the uppermost priority for any company that is data-driven. AWS provides a highly secure infrastructure to ensure the privacy of your data. Security professionals at AWS follow different layers of data surveillance such as:
Data protection
Identity and access management
Infrastructure protection
Threat detection and continuous monitoring
Compliance and data privacy
It is an end-to-end approach so that companies need not worry about their confidentiality, and instead, they can focus on business development.
Looking to learn about AWS? Check out the blog on AWS Tutorial now!
Cost-effective
If you follow traditional methods, then you should build your own servers for storing your data and applications, which consumes a good amount of both your time and money. So instead of building your own expensive servers, you can use AWS where you need to pay only for the tools and services that you use. AWS offers a pay-as-you-go pricing method, which means that a company will only pay for the services that it needs and has used for a period of time. It is the same as paying your electricity bill; you only pay for the units you have consumed. These AWS features and benefits are more unique or cheaper than the traditional computing method.
Moreover, AWS is a no-commitment service. It does not ask for any time commitment before you start using AWS benefits, so you can start or stop using it at any time without hassles.
Reliable
Amazon offers the highest reliability for its customers. AWS serves over a million active clients in more than 200 nations all over the world. An ultimate team of tech professionals is working on data security. AWS performs its tasks accurately when it is required and offers many services that make it more reliable like the capability to automatically recover from failure. Also, services such as Amazon DynamoDB and Amazon S3 store the data in three different availability zones so that even if two of them fail to work, the users will still have their data intact. Therefore, AWS benefits are trustworthy in terms of the services and security it provides.
Scalable and Elastic
AWS is scalable because the AWS Auto Scaling service automatically increases the capacity of constrained resources as per requirements so that the application is always available. Spinning up new servers is easy in AWS. If you want to add more servers, AWS enables you to use them within minutes.
Elasticity is one of the AWS advantages. If you use fewer resources and you don't need the rest of them, then AWS itself shrinks the resources to fit your requirement. That is, upsizing and downsizing of resources is easy here. Also, AWS always lets you know how many resources you are using at the moment.

Highly Performant
High-performance computing (HPC) is the ability to process a massive amount of data at high speed. Companies find it more crucial for productivity and to compete with other companies. AWS offers a high-performance computing service so that the companies need not worry about the speed.
AWS has become the most popular cloud platform as it always keeps innovating itself with the latest tools and technologies for better productivity. But, every coin has two sides, right? The same is with this popular cloud provider. Along with the pros, there are some cons too. After discussing the Amazon Web Services advantages, now, let's see some disadvantages of AWS.
If you have any queries about the Amazon Web Services course, feel free to ask in our AWS Community.
Disadvantages of AWS
In this section of the blog, let's read about the drawbacks of AWS.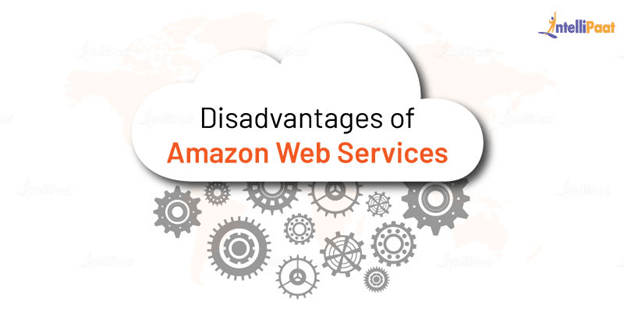 Limitations
This comes the first in the list of a few disadvantages of AWS Cloud Computing. In AWS, there are some limitations regarding EC2 and security. Companies that are using AWS will have default resources to use, but the problem comes when default resource limits vary from region to region. Although they can submit a request for more resources, companies find it a disadvantage of AWS.
Lack of Experts
AWS is the latest invention with a complex infrastructure. Companies using AWS as their Cloud Computing platform are looking to hire professionals to work on the cloud infrastructure. However, only a few professionals are skilled in AWS or any cloud provider. Companies are ready to invest in them but are facing difficulty in finding the right professionals to work on AWS who can lead these organizations to better performance. This can be a disadvantage of AWS in terms of time and money.
Wondering how to become an AWS certified professional? Enroll for Intelipaat's AWS Certification now!
Price Variations
The price of AWS services varies based on factors such as the cost of land, fiber, electricity, and taxes from region to region. Variations also occur when you need additional tech support. Developer, Business, and Enterprise are the three available packages you can choose from, and the price varies accordingly. This will impact your monthly bill. But with services like Amazon CloudWatch, you can monitor your service consumption, and Serverless Data Lake helps you calculate the cost of the services in your region.
General Issues
Amazon is a huge family with millions of customers, so it has some temporary Cloud Computing issues. Users sometimes face downtime with servers. It may be because of the power loss or network connectivity with the cloud provider. Anyway, it can be rectified eventually.
Looking to prepare for jobs? Check out our blog on AWS Interview Questions.
Conclusion
This blog was an attempt to dig deep into the benefits and drawbacks of Amazon Web Services. Many top companies, including Netflix, LinkedIn, etc., and even many government sectors depend on AWS for their cloud needs. It offers some of the best services that make anyone forget about the flaws. Amazon has always tried to reach customers' expectations, which is also a reason why it is so popular.
Want to become a master in AWS? Intellipaat provides you the best AWS Master's Course. Go check it out and enroll yourself in for gaining hands-on experience.
The post Top 7 Benefits of AWS – Advantages and Disadvantages of Amazon Web Services appeared first on Intellipaat Blog.